Welcome to Dublin Golf.com - a resource for information on Golf in Dublin including golf clubs and courses, news and much more.

Our comprehensive directory provides a searchable database of golf courses in Dublin and neighbouring counties: Kildare, Louth, Meath and Wicklow. Courses can be searched by county, type, length and price.

If you want to look for a golf club in other parts of Ireland or Northern Ireland you can also try Irish Golf.net.

If you have any feedback on this site or anything you would like to see included please use our contact page or email us.
---
Featured Golf Course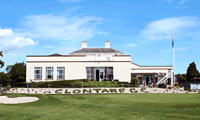 Clontarf Golf Club is one of the oldest established golf clubs to be found around Dublin. Founded in 1912, on the lands of nearby Mount Temple, thanks mainly to the contribution and influence of Dr. John Love Morrow.


The course is a pleasant, yet challenging, 18 hole parkland course with superbly manicured rolling fairways and a liberal sprinkling of fine old trees. It is the closest golf course from the centre of Dublin, being within 2 miles (3 km) of O'Connell bridge.

The speedy greens have attained a standard of excellence and discerning visitors regularly say that they are amongst the best to be found around the country. Although a relatively short course, its narrow fairways and punitive rough calls for accuracy off the tee and will test the players' golfing skill. Each hole presents its own challenge which can catch the unwitting golfer off-guard. Shot-making skills must be complimented with accurate club selection in order to post a good score.

The '19th hole' provides a warm and friendly place to discuss 'what should have been' and 'what could have been. The restaurant, with its beautiful ornate ceiling and delightful decor seats up to 90 diners and provides a perfect setting for corporate and society functions. It is also a cosy and intimate place to dine and relax with friends after a round of golf.

For more details click here.